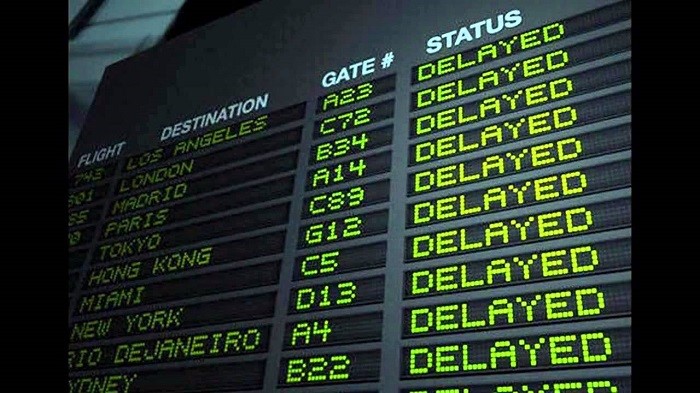 Background
Looking at the stats, there are over 90 million passengers every year flying between the EU and Asia (by Asia I mean the Far East, Gulf states and the Indian Sub-Continent). Almost all of these journeys cover a distance which exceeds 3,500 km. When these flights are delayed, the delays can run into many hours and it can be difficult for the flight crew to make up time over such long distances.
Typically, these routes are flown using large wide-bodies such as B777's and A380's which can hold 350 – 500 passengers respectively. Load factors are also generally strong on these routes. It doesn't take a mathematician to work out that at 600 Euros per delayed passenger, there is a lot of money swilling around to be claimed in the event of a flight delay.
European Law
A passenger travelling on a European flight to, or from Asia which was cancelled or delayed may have the right to compensation under European law. The law still applies even if the passenger resides in Asia. Regulation EU 261 covers European airspace, so the passenger doesn't have to be an EU citizen to make a claim. The regulation says that affected passengers can claim compensation from an airline when a flight lands at its destination more than three hours late. With a cancelled flight, the passenger has the right to take an alternative flight with the same airline to the destination, or cancel the flight and receive a full refund. Airlines don't always pay out however, and may try to avoid doing so if the delay is caused by a so-called 'extraordinary circumstance' such as bad weather or crew strikes – see below.
Previously, airlines refused to pay out for delays caused by technical faults claiming they counted as extraordinary events. But, in 2014 two English Court rulings declared that airlines should pay out when a delay was caused by a technical fault.
How much a passenger is entitled for a delay or cancellation depends on the flight that they booked, and the amount of time they were delayed. The flight must have departed from an EU airport and can either be operated by any airline (so this includes all European, Asian and Gulf carriers), or it must have arrived into an EU airport and have been operated by an EU airline. The 'EU airport' definition also includes any airport in Iceland, Liechtenstein, Norway and Switzerland.
Airline's duty
Airlines have a duty to look after stranded passengers, even if cancellations are because of extraordinary circumstances beyond their control. Passengers should keep a record of what they spent (including receipts) in order to try to reclaim from the airline using the EU 261 rule. Airlines should compensate passengers if their flight is cancelled or badly delayed. They should also offer meals, refreshments and hotel accommodation whilst passengers wait for a rearranged flight.
When making a claim, passengers will need to confirm the airline and flight number, the names of other passengers if travelling as a group, and the reason given by the airline for the delay. A four hours (or more) delay on a journey which exceeds 3,500km between an EU and non-EU airport (in Asia) gives a compensatory award of 600 Euros. It is always a good idea for passengers to keep hold of boarding cards as proof of travel.
If a flight is cancelled, passengers should be offered an alternative flight with the same airline to their destination either on the day or the following day if there is space, or a full refund for the flight. If this is not possible then they should be given the option of a flight with a different airline, if there's room. If the passengers end up paying for this on top of the cost of the original ticket, they should be able to claim any extra money back – if they can prove that no other suitable option was given by the original airline. If passengers were given more than 14 days' notice about the cancellation, they will only be entitled to a new flight or a refund for the original flight. But, if they were given 14 or less days' notice they might be able to claim compensation on top of a refund, or alternative flight. The amount of compensation differs depending on when passengers were told about the cancellation, the length of the flight, and how long they had to wait for a new flight. The cancellation also needs to have been something which could have been avoided by the airline, so again passengers won't be able to claim for reasons such as extreme weather conditions or a crew strike.
Extraordinary circumstances
Airlines don't have to accept every claim, and can refuse to pay if 'extraordinary circumstances' apply. If the airline turns down the claim because of extraordinary circumstances, passengers can challenge this if they do not believe it to be true. They can take the matter up with the local Civil Aviation Authority if it is not settled properly. Many airlines still try to wriggle out of such claims, and a good example of this is an airline claiming technical faults as extraordinary circumstances. This is because the regulation gives no definition of exactly what extraordinary circumstances are, but does give some examples. Typically, they would include acts of terrorism, security risks, extreme weather e.g. volcanic ash, political unrest, industrial action strikes not relating to the airline, and hidden manufacturing defects in an aircraft. If the airline tries to claim extraordinary circumstances, challenge them to explain exactly what they were, and why they could not have been reasonably avoided. The onus is on the airline to prove this.
How far back can I claim?
Regulation EU 261 does not set a time limit on how far back claims can go, instead stating that this should be determined by the laws in respective countries. In Hong Kong for example, the statute of limitations law is six years, so by this logic an airline should consider claims for delays dating back six years from the time the claim is submitted. Again though, it is important that passengers have kept their flight documents as proof of travel.
Denied boarding
EU 261 also applies to denied boarding claims. Passengers should not volunteer to surrender their seat if asked to do so by the airline. In cases where they volunteer to give up on a seat in exchange for a travel voucher, airline miles or other form of compensation they will be no longer eligible to claim under the EU Regulation. Passengers won't be entitled to compensation either if they failed to check-in on time, were not at the gate on time, did not have the required travel documents (boarding pass, passport, visas etc.), or they created/represented a health, safety or security concern. In other words, passengers are only covered when they have been denied boarding against their will. This often happens in cases of overbooking i.e. the airline (over) sold more tickets than there are seats on the plane. They do this to compensate for passenger "no-shows", i.e. passengers who booked a ticket but then do not show up for a flight. If passengers are denied boarding because of an overbooked flight, they are also entitled to compensation.
Need any help?
It seems, thus far, that the Asian travelling public have overlooked, or were simply unaware of their air passenger rights under EU law.
Not to worry, that is all about to change. Watch this space………
Come on Asia, it's time to claim!