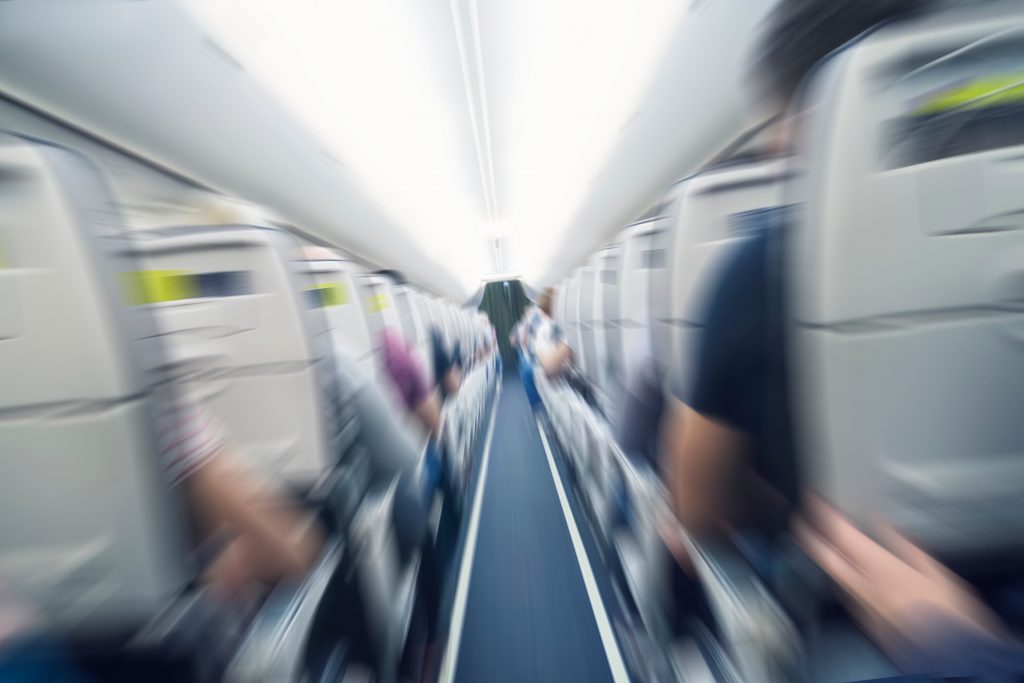 2019 events
There have been a number of widely-reported aircraft turbulence events which resulted in
serious injury to some of the passengers on board. Here are a few reported examples.
"An Emirates Airbus A380-800, registration A6-EEM performing flight EK-449 from Auckland
(New Zealand) to Dubai (United Arab Emirates), was enroute at FL400 about 140nm east of Chennai (India) at around 21:54Z when the aircraft encountered turbulence. The crew continued the flight for a safe landing in Dubai about 3hours later. An unknown number of passengers were taken to hospital.
The airline reported a few passengers and crew received minor injuries when the
aircraft encountered sudden and severe turbulence about 3 hours prior to
landing. First aid was provided on board and medical assistance was arranged at
Dubai airport.
Passengers reported fellow passengers were thrown against the cabin ceiling, seat belt
signs were illuminated after the first jolt. Service carts and all sort of
loose items were distributed all across the aisles and aircraft following the
jolts. A number of passengers were bleeding, bruises and a whiplash were
treated on board."
"An Emirates Boeing 777-300, registration A6-EBU performing flight EK-450 from Dubai
(United Arab Emirates) to Denpasar (Indonesia) with 326 people on board, was
enroute at FL350 about 40nm west of Singapore (Singapore) when the aircraft
encountered clear air turbulence causing an altitude deviation of about 100
feet. 11 people sustained injuries. The aircraft continued to Denpasar for a
safe landing about 2:15 hours later.
Denpasar Airport confirmed the aircraft encountered clear air turbulence near Singapore
resulting in 11 injuries. The aircraft remained in Denpasar for checks.
A replacement Boeing 777-300 registration A6-ECT continued the next sector to
Auckland (New Zealand)."
"A Cathay Pacific Boeing 777-300, registration B-HNN performing flight CX-532 from
Hong Kong (China) to Nagoya (Japan) with 125 people on board, was descending
through about FL120 towards Nagoya when the aircraft encountered turbulence
causing injuries to 4 cabin crew. The aircraft continued for a safe landing on
Nagoya's runway 36 about 15 minutes later."
"A Hong Kong Airlines cabin crew member has suffered serious injuries as a result
of turbulence. The unfortunate incident occurred almost a month ago in June,
however, has only just come to light.
A member of Honk Kong Airlines staff was severely injured by turbulence.
Unfortunately, incidents involving turbulence causing injuries do happen. While the incidents
appear to be coming more often, it could just be that more events are being
reported and noticed. However, these accidents are serious, and should not be
overlooked. Thankfully only one member of crew was seriously injured in this
recent accident. However, we have seen turbulence where multiple passengers
have needed hospital treatment."
"On July 11, 2019, Air Canada Boeing 777, with 269 passengers and 15 crew members
onboard, took off from Vancouver International Airport (CYVR), Canada. The
first few hours of the journey went as usual, as the airliner crossing smooth
and clear of cloud air. Then suddenly it encountered severe turbulence, which,
lasting for 10 to 15 seconds, left 37 people injured.
Thrown into the ceiling, 31 passengers and six cabin crew sustained injuries, ranging
from cuts to bruises, the Transportation Safety Board of Canada has determined
in the final incident investigation report, released on September 24, 2019.
After the short scare, cabin crew and professionals' medics onboard helped those injured
as the aircraft turned back towards Hawaii. Duping the fuel prior to landing,
the Boeing 777 finally successfully landed at the Daniel K Inouye International
Airport (PHNL) a couple of hours later, where it was met by emergency services.
The affected flight, ACA033, was en route to Sydney Kingsford Smith Airport (YSSY),
Australia. Prior to the takeoff, no significant weather had been forecast along
the route of flight until a further segment near the equator, the investigators
have observed."
What does the Montreal convention say?
The governing air law which covers events of this nature is the Montreal Convention, or 'MC99'.
"Article 17 – Death and injury of passengers
1. The carrier is liable for damage sustained in case of death or bodily injury of a passenger upon condition only that the accident which caused the death or injury took place on board the
aircraft or in the course of any of the operations of embarking or disembarking."
And,
"Article 21 – Compensation in case of death or injury of passengers
1. For damages arising under paragraph 1 of Article 17 not exceeding 100,000 Special Drawing Rights for each passenger, the carrier shall not be able to exclude or limit its liability.
2. The carrier shall not be liable for damages arising under paragraph 1 of Article 17 to the extent that they exceed for each passenger 100,000 Special Drawing Rights if the carrier proves that:
(a) such damage was not due to the negligence or other wrongful act or omission of the carrier or its servants or agents; or
(b) such damage was solely due to the negligence or other wrongful act or omission of a third party."
What can I claim for?
As a minimum, you can request a payment of compensation from the airline and its
insurers to reflect what lawyers refer to as 'pain, suffering and loss of
amenity'. The amount of the award for injury is determined by factors such
as severity of the injury, anticipated recovery period, prevailing awards made
by courts in a given jurisdiction etc.
In serious cases, there may be ambulances waiting on the ground to transport injured
passengers to the nearest hospital for emergency treatment. At the end of your
stay in hospital you may be asked to settle the medical bills and prescription
costs. Family members may also have been injured, and even if they were not
considered to be emergency cases they nevertheless may have been required to
stay in a nearby hotel whilst you were treated as an inpatient.
Your onward travel or holiday plans may be affected.
You may have lost several days of a pre-paid vacation, and assuming that
you are fit enough to continue with the journey there will be a loss of
enjoyment sat around a hotel pool in a plaster cast taking painkillers!
You will want legal redress, and so your lawyers' fees can be included. Most countries
operate a 'loser pays' legal system, so the airline and their insurer will be expected to meet any fees that you incur in recovering compensation.
Keep a record
If you have suffered an injury and associated losses because of an onboard turbulence event
then retain your e-ticket and boarding pass.
Also, make a report of the injury to the cabin crew or, failing that, to a member of ground
staff on arrival.
If you incurmedical expenses, or overnight accommodation expenses then keep hold of the
receipts so you can include these items in your claim.
Contact
Please complete the enquiry form on our website AeroClaims.Asia, or email me at [email protected]